After visiting Universal Studios Florida, do you want to bring some Villain-Con Minion Blast home with you? With this new toy reproduction of the E-Liminator X blaster users utilize on this new interactive attraction, the Evil Stuff Gift Store at the exit has you covered. Check it out below.
E-Liminator X – $35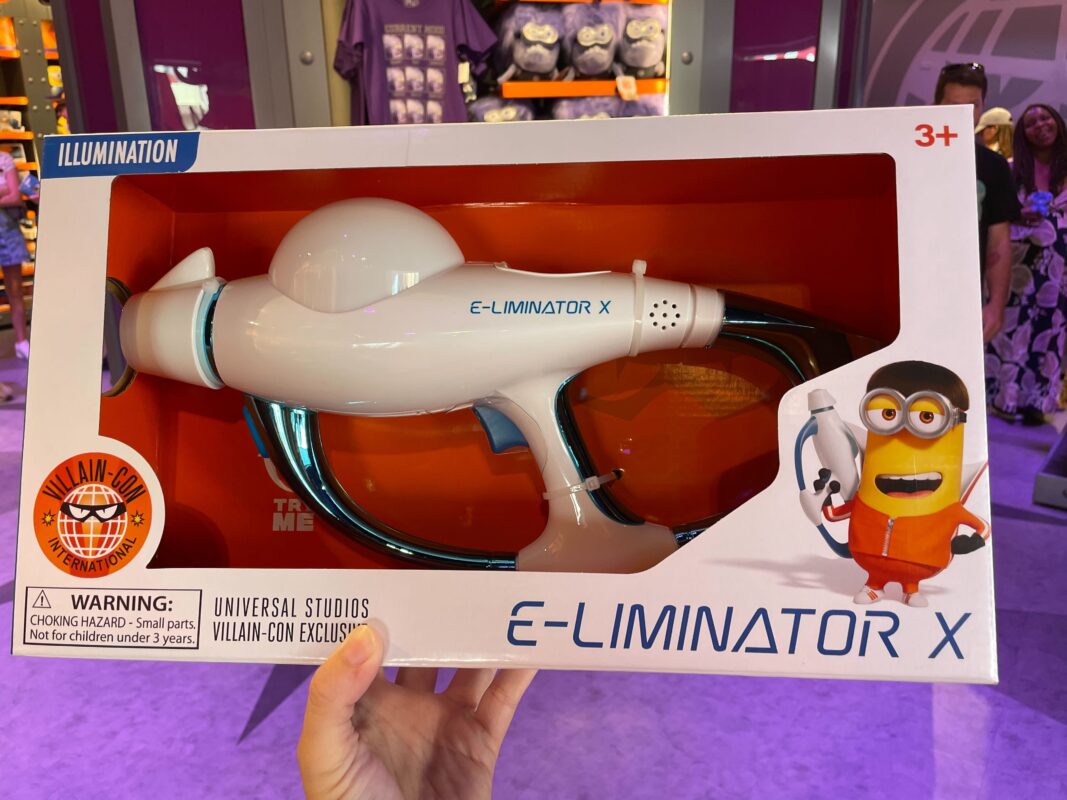 For kids 3 and up, the blaster itself is white with blue accents.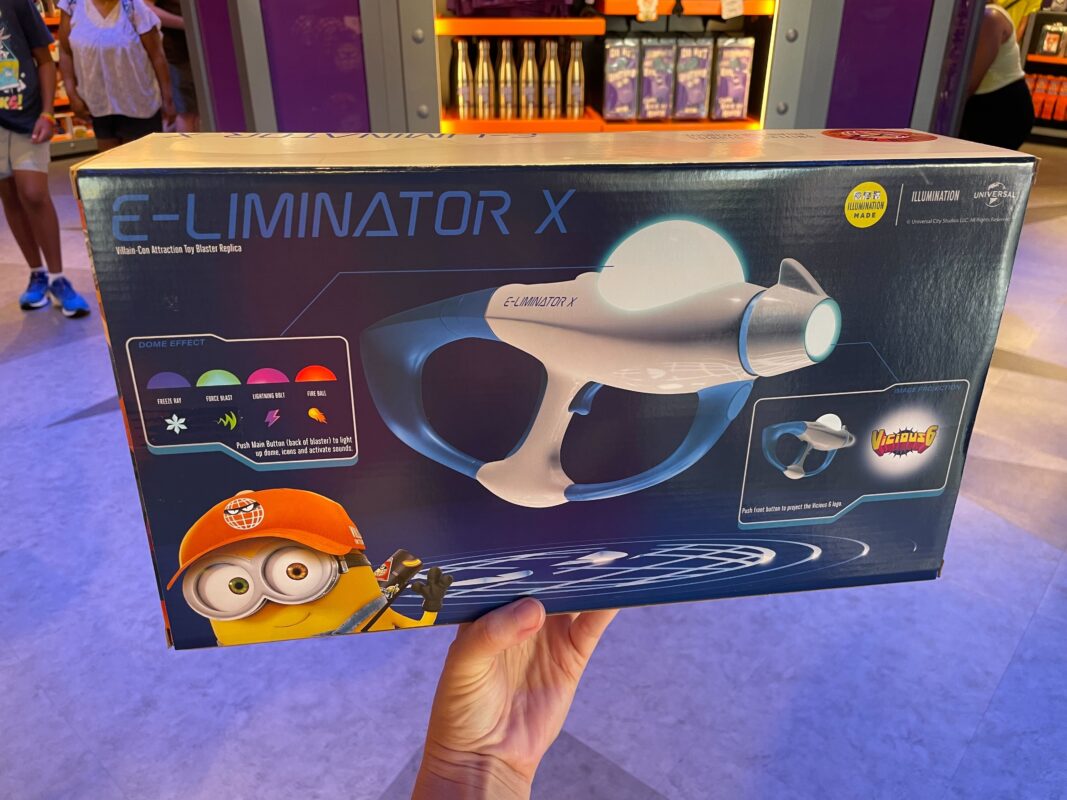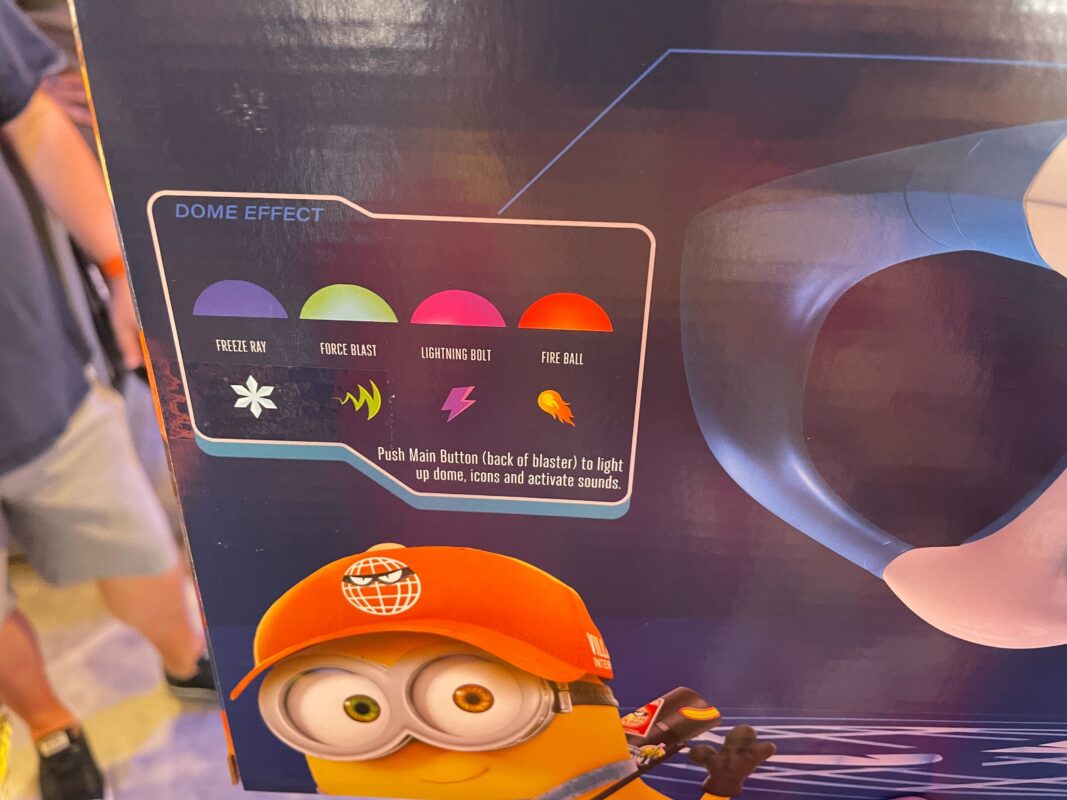 The box's back states that the dome changes colors. This blaster duplicates the attractions' Freezing Ray, Force Blast, Lightning Bolt, and Fire Ball effects with sounds and icons.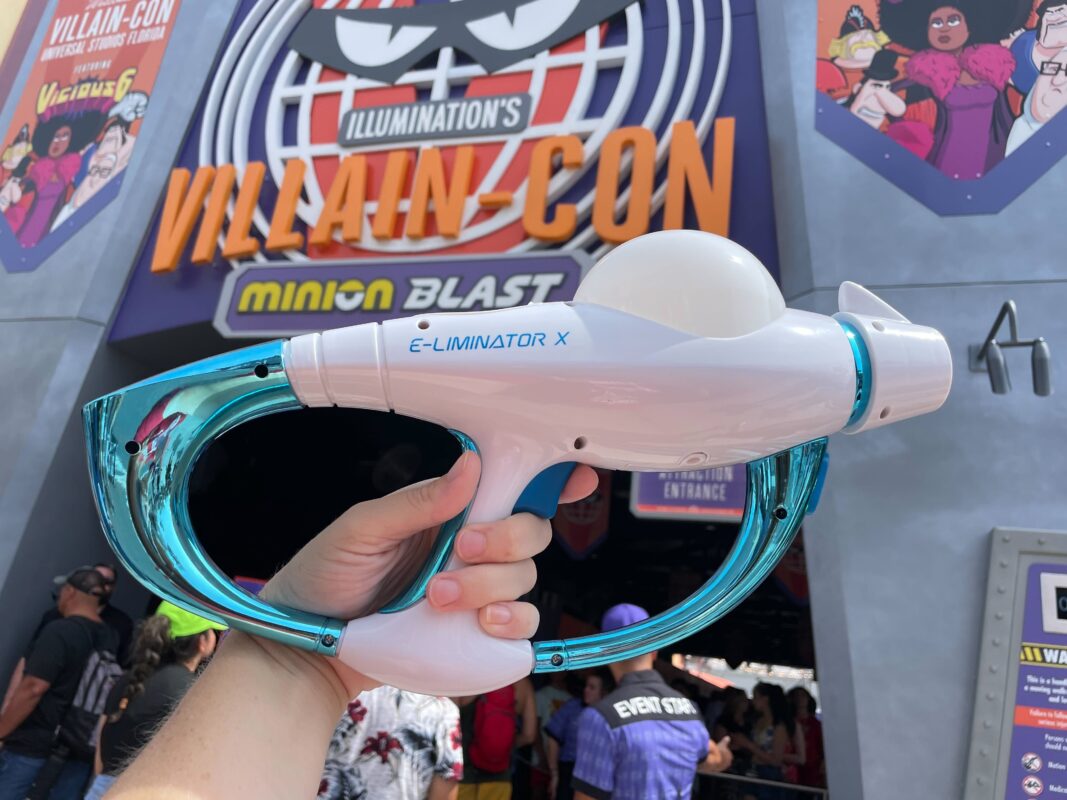 An illustration of the displays may be seen below. While using Freeze Ray, the icon is shown on a small screen that faces the user while the dome lights a vibrant blue.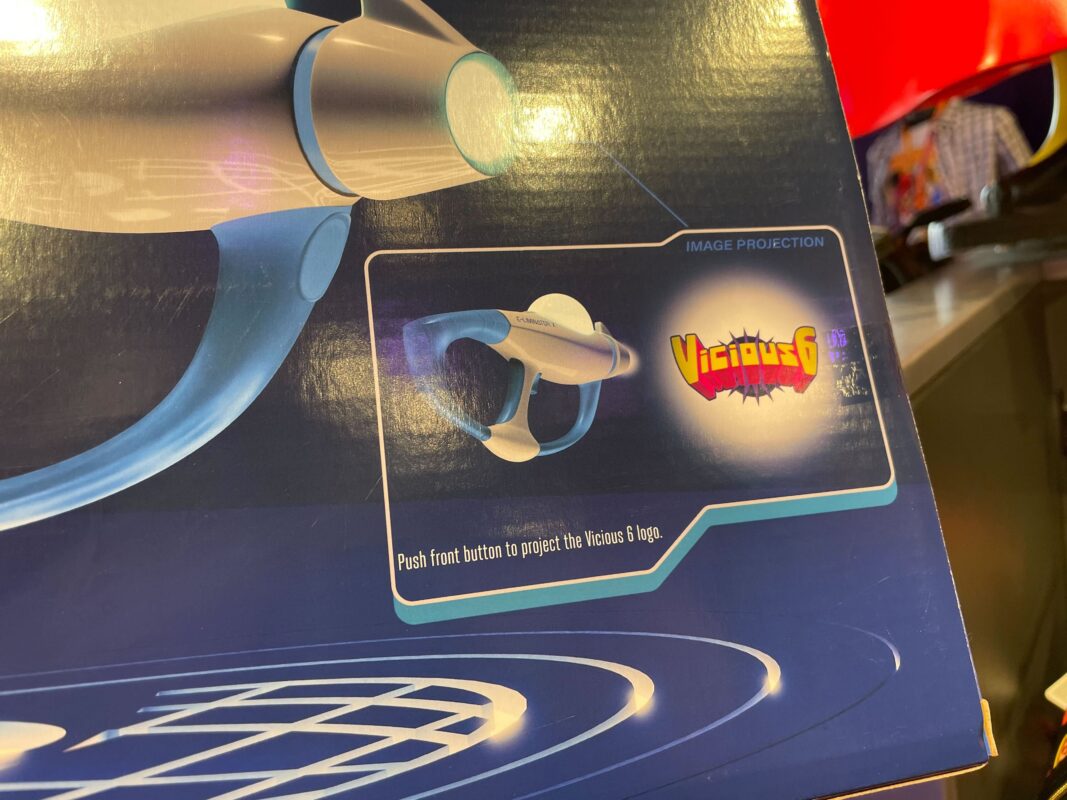 The Vicious 6 emblem, the elite group of villains hosting Villain-Con, is projected when the front button is pushed.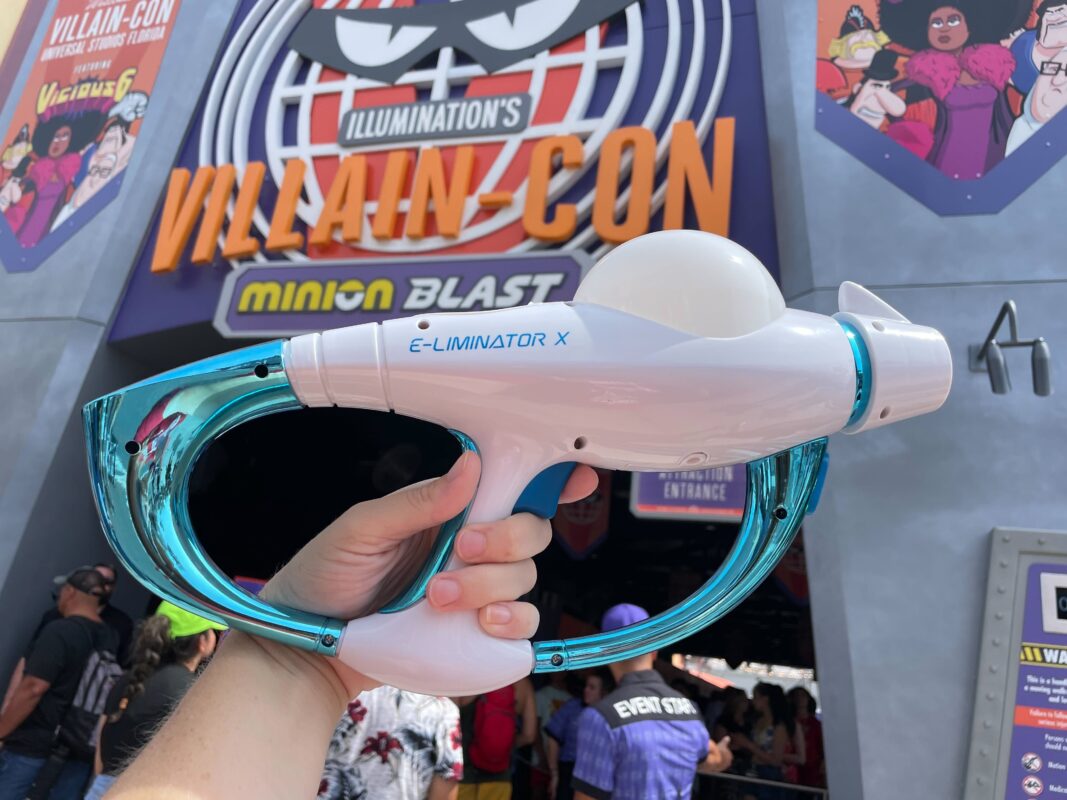 Are you interested in this blaster? Tell us your thoughts in the comments.
Villain-Con Minion Blast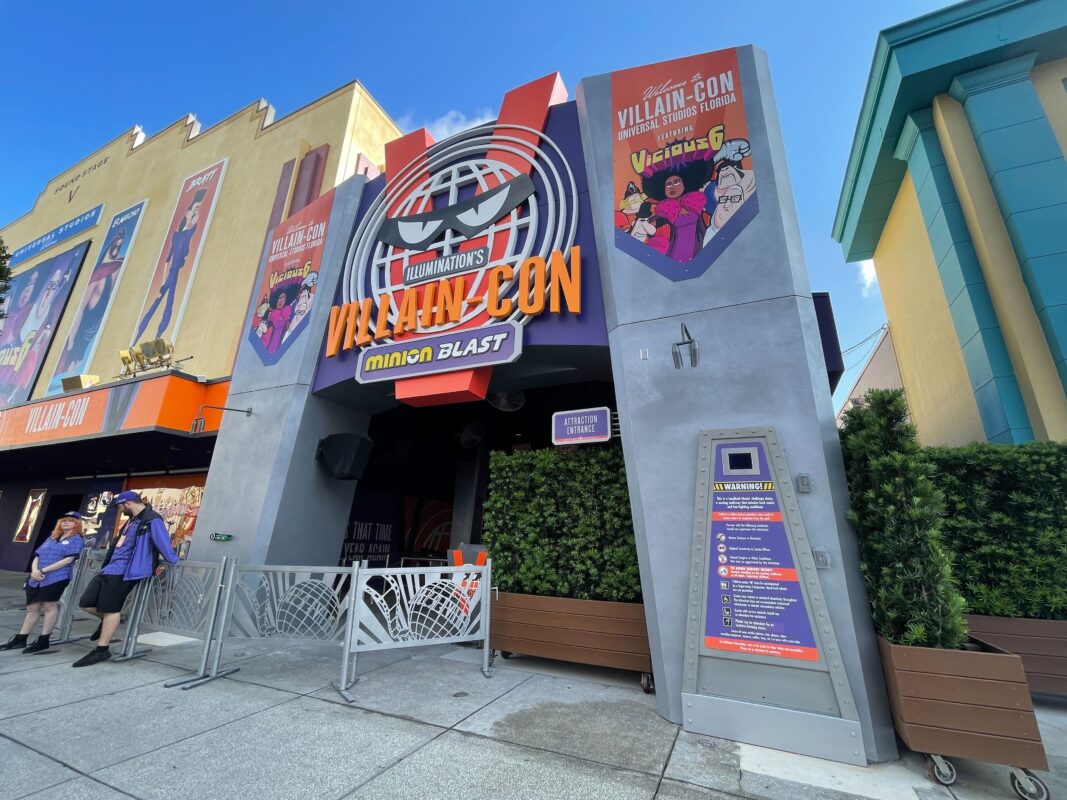 Villain-Con Minion Blast by Illumination is a shooting attraction with a moving walkway. The Illumination filmmakers and Universal's award-winning creative team collaborated to create the attraction. Visitors are invited to battle against one another in this interactive blaster game experience in an effort to join the franchise's most heinous supervillains, the Vicious 6.
The brand-new experience made its public debut today during technical rehearsals. We can anticipate that some components will be missing because it isn't yet completely operational, and the hours of operation could be inconsistent. In the attraction or line, no pictures or videos are currently permitted.
Villain-Con A creative, game-based journey is created by Minion Blast using screen technology, gaming interactivity, and physical settings. In immersive settings, visitors test their capacity for evil.
The attraction's storyline is that visitors are stopping by Villain-Con, the largest criminal convention in the world, which has set up shop in Universal Studios Florida. Visitors at Villain-Con participate in a competition to test their skills in becoming the newest Vicious 6 member. Visitors take an interactive blaster, stroll onto a motion-sensitive pathway, and begin blasting.
Visitors navigate through a number of settings, scoring points by shooting at various objects and wrecking as much as they can. The Universal Orlando Resort app allows them to keep track of their points across several rides.
In Universal Studios Florida, the now-defunct Shrek 4D attraction has been replaced by Illumination's Villain-Con Minion Blast.
Minion Land at Universal Studios Florida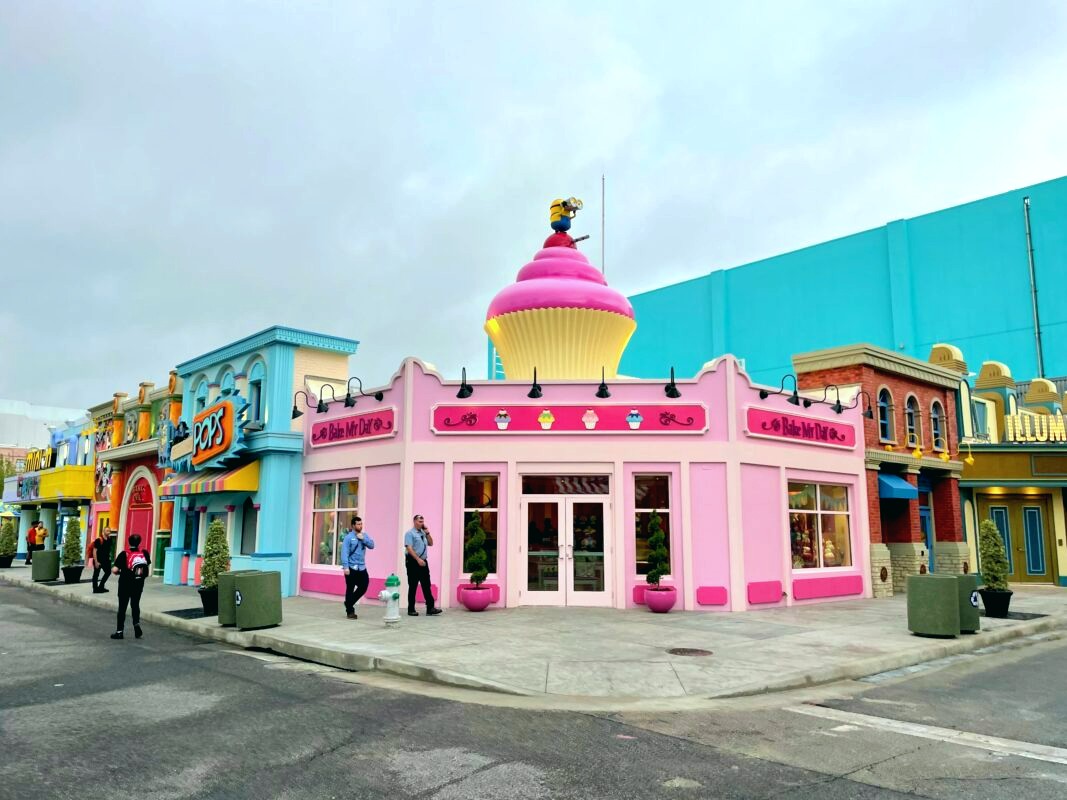 Production Central has largely been taken over by Minion Land, which has changed it into Illumination Avenue. The previous Classic Monsters Cafe at Universal Studios has been replaced by Minion Café, which is joined by Bake My Day, Freeze Ray Pops, and Pop-A-Nana.
Both the current Despicable Me Minion Mayhem and the future Villain-Con Minion Blast are the attractions. Despicable Me Minion Mayhem's exterior has recently undergone renovation.
Character meet-and-greets take place outside Illumination Theater with the Minions and other Illumination characters.
To complement the new land, the back of the Transformers: The Ride show building has been painted a teal blue color.
Universal Studios Beijing also has a whole new Minion World. Minion Park is a separate zone at Universal Studios Japan, though a replica is being built at Universal Studios Singapore. At Universal Studios Hollywood, there is a different Minion Café.
Let us know in the comments below if you've ridden and what you think about Villain-Con Minion Blast in the comment below!