The Freeze Ray Pops and Minion Café signs have been added in Minion Land at Universal Studios Florida.
Freeze Ray Pops Sign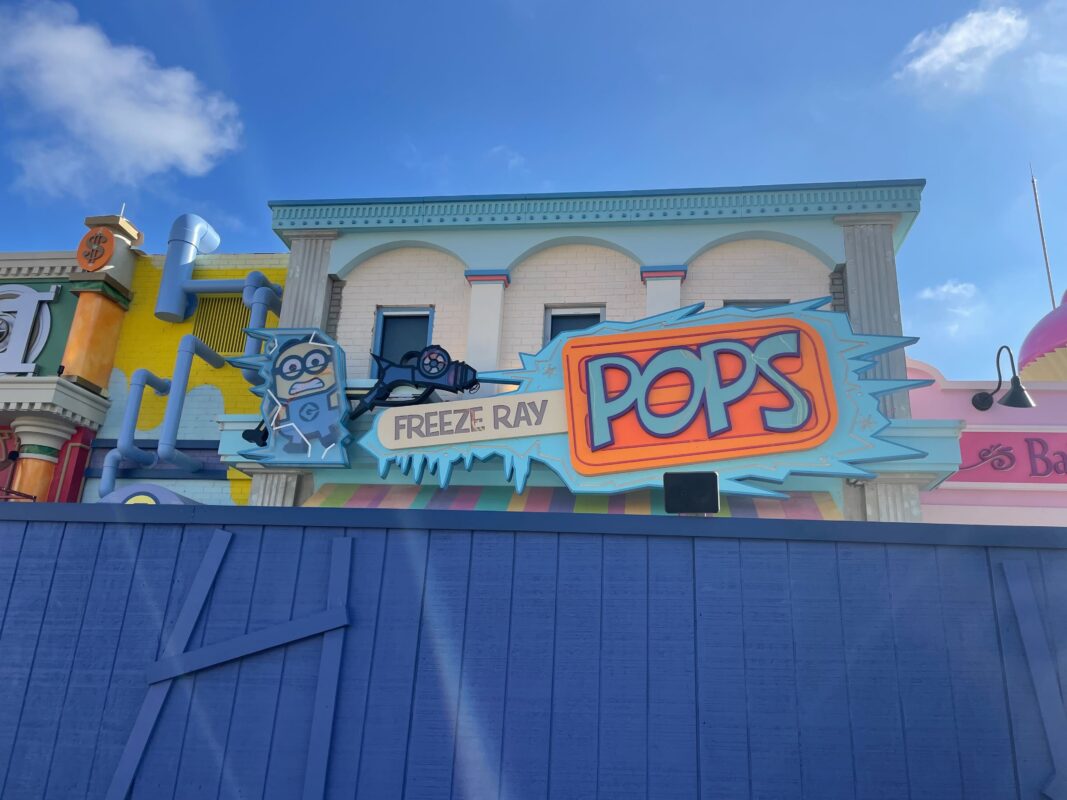 Bake My Day is directly next to Freeze Ray Pops. A frozen Minion and a freeze ray are depicted on the sign.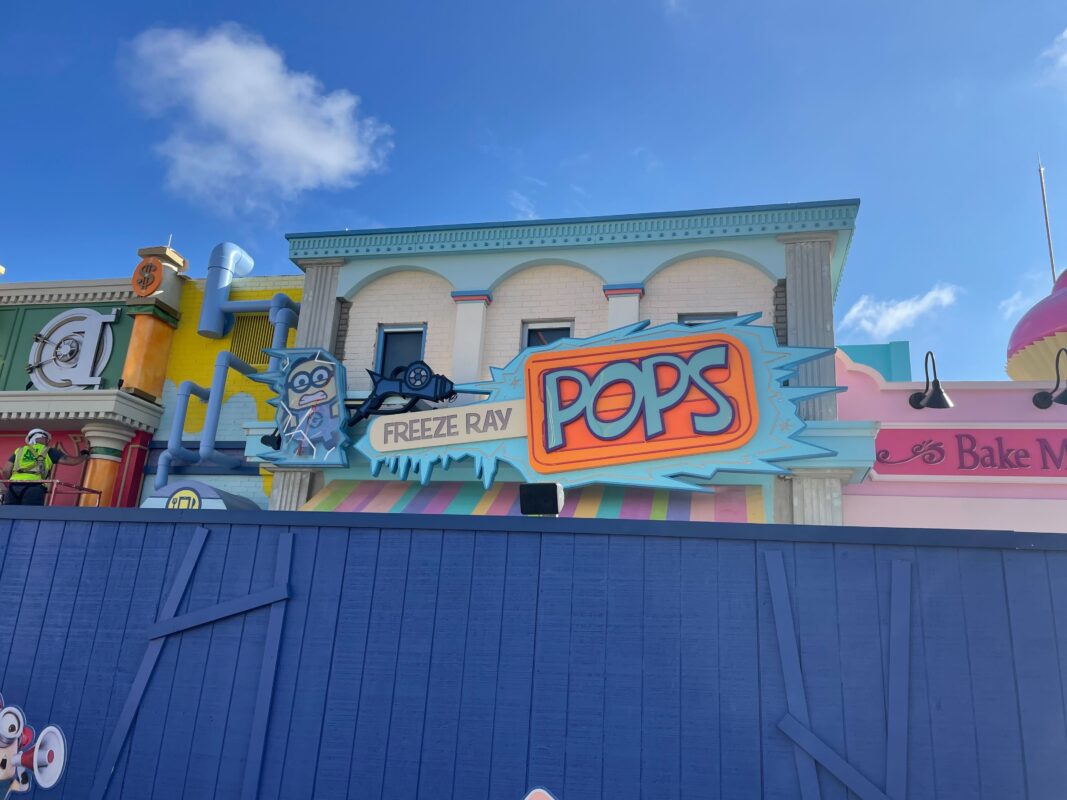 On an orange popsicle, the word "Freeze Ray Pops" refers to the sweets that will be inside for guests to enjoy.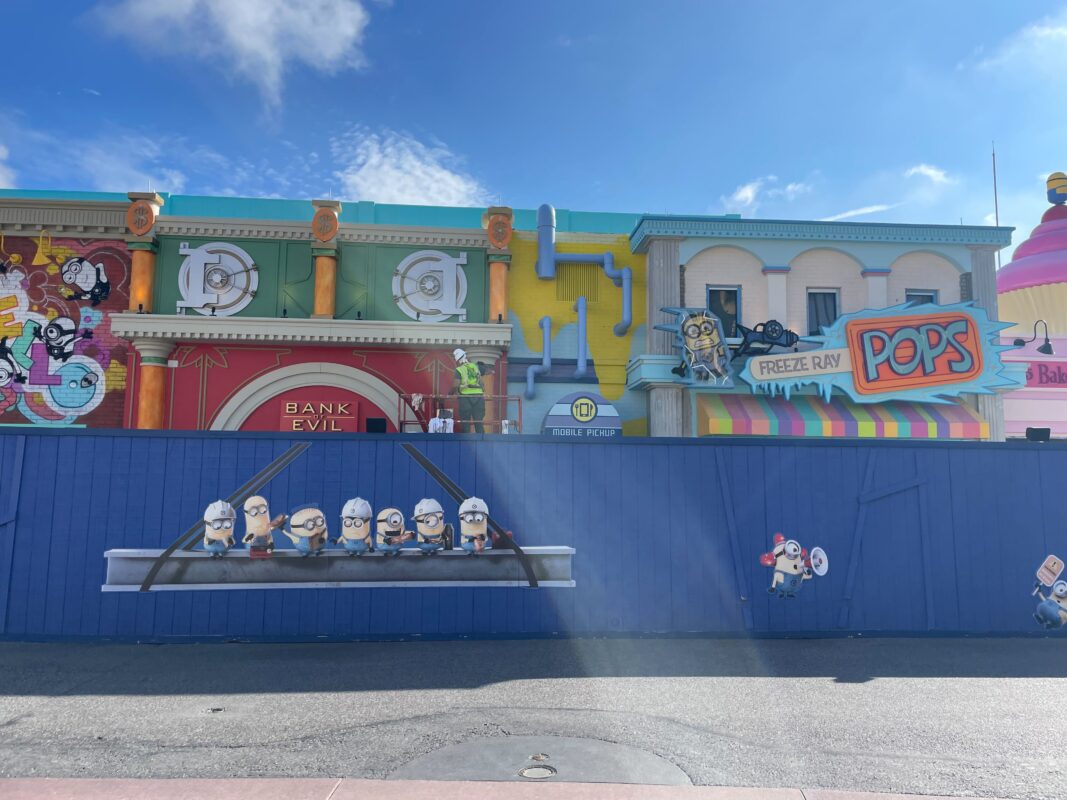 Between the Bank of Evil and Freeze Ray Pops facades, there is a mobile pickup window.
Minion Café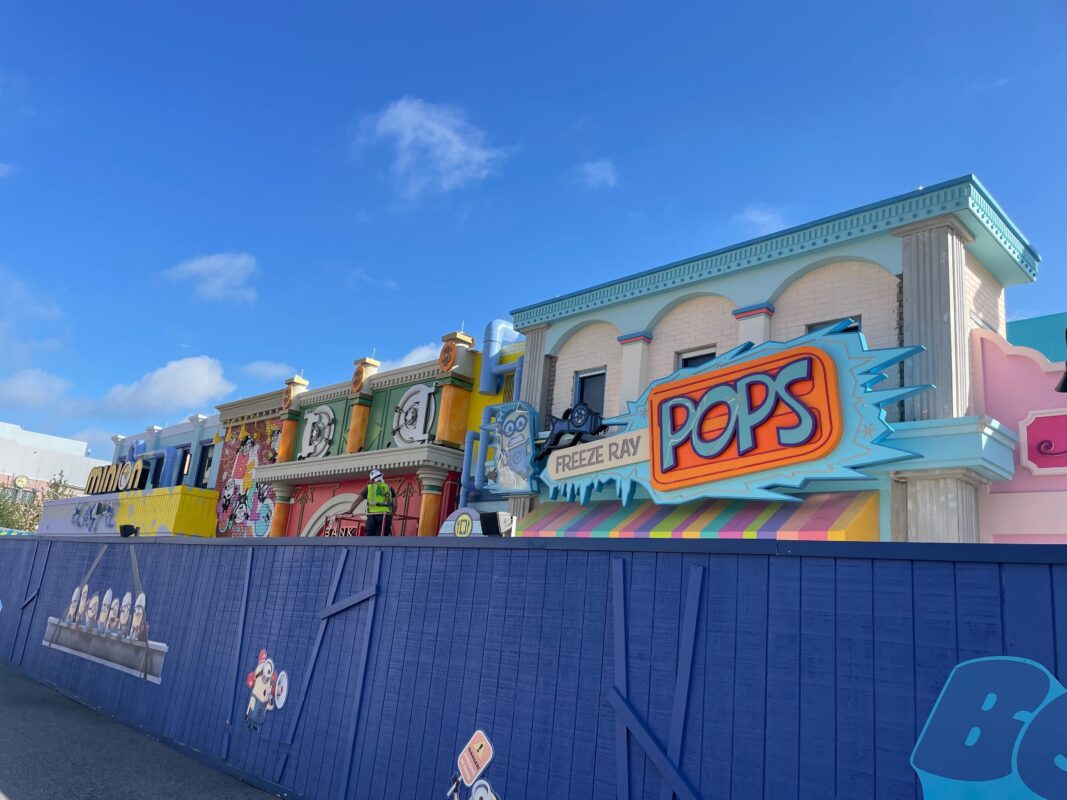 Minion Café's entrance is located at the end of the line of façades.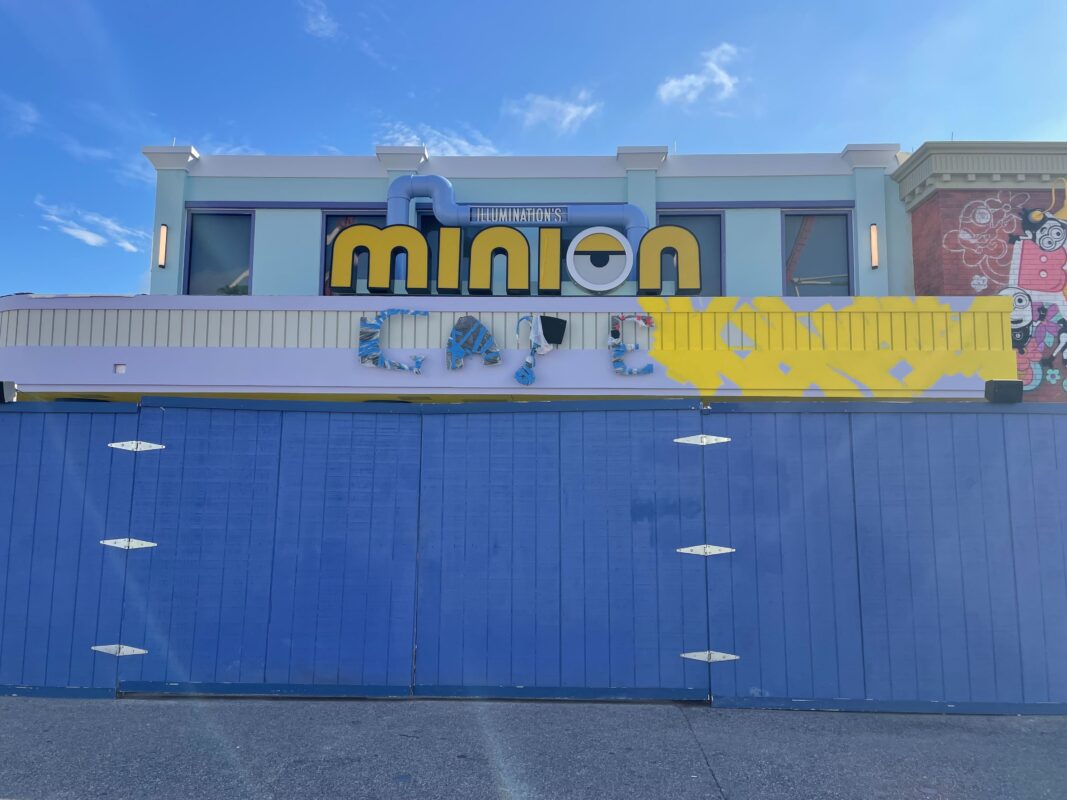 For some weeks, "Café" has been shown on the restaurant's marquee, but "Illumination's Minion" have just been put in place. On a pipe, right above the yellow "Minion" lettering, is the word "Illumination's."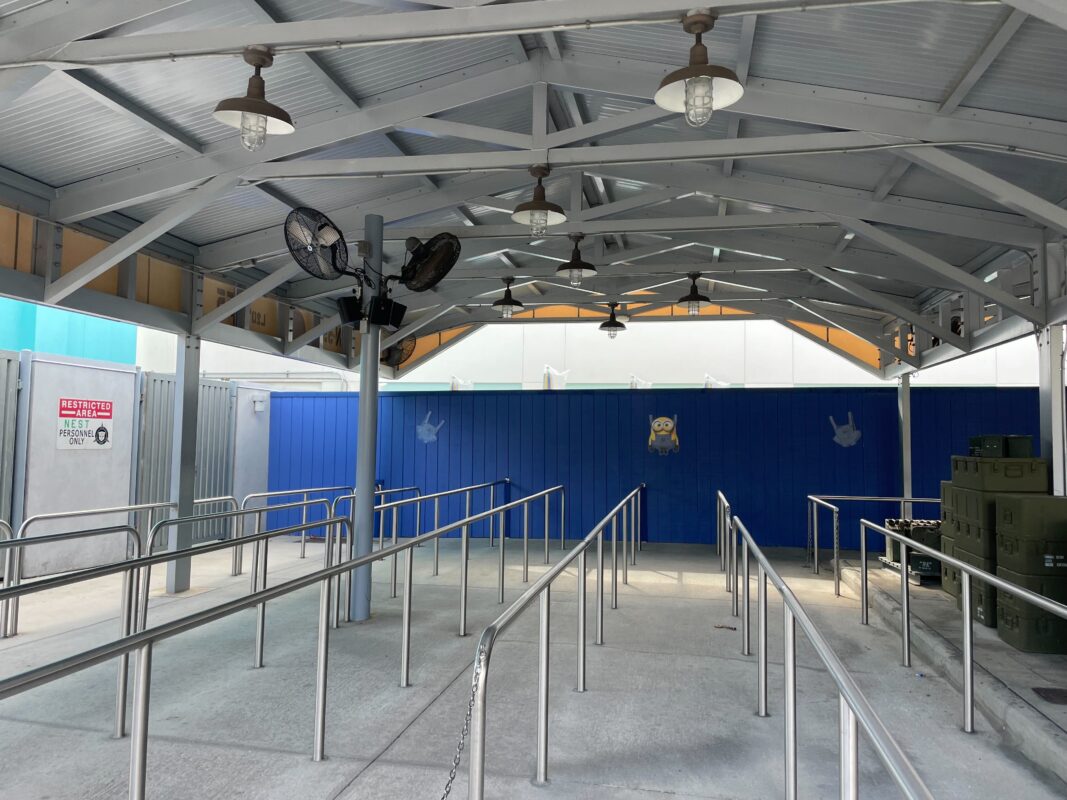 We could just make out the installation of folded-up umbrellas for outside seating at Minion Café over some construction walls.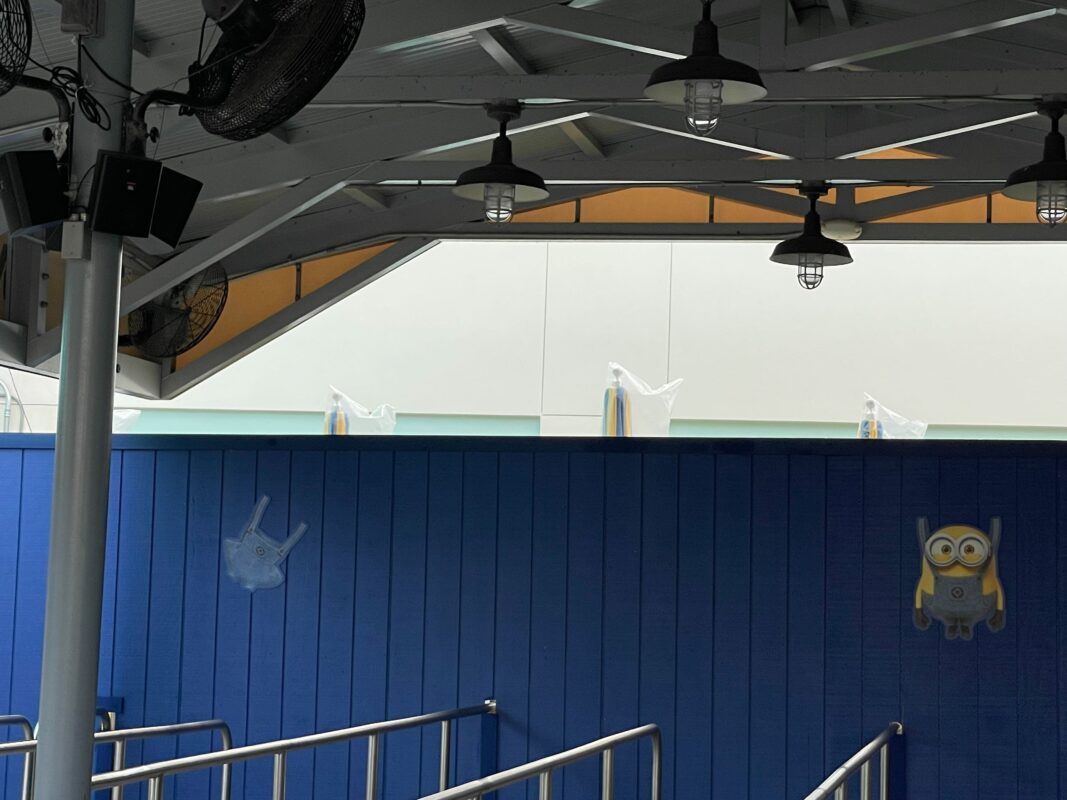 As renovation is ongoing, the recently installed blue and yellow umbrellas are covered with plastic.
Minion Land Update Video
Evil Stuff, the gift shop for the new Villain-Con: Minion Blast ride at Universal Studios Florida, has officially opened! Enjoy this video tour of the store, showing off some of the exclusive Minions and Villain-Con merchandise.
Illumination's Minion Land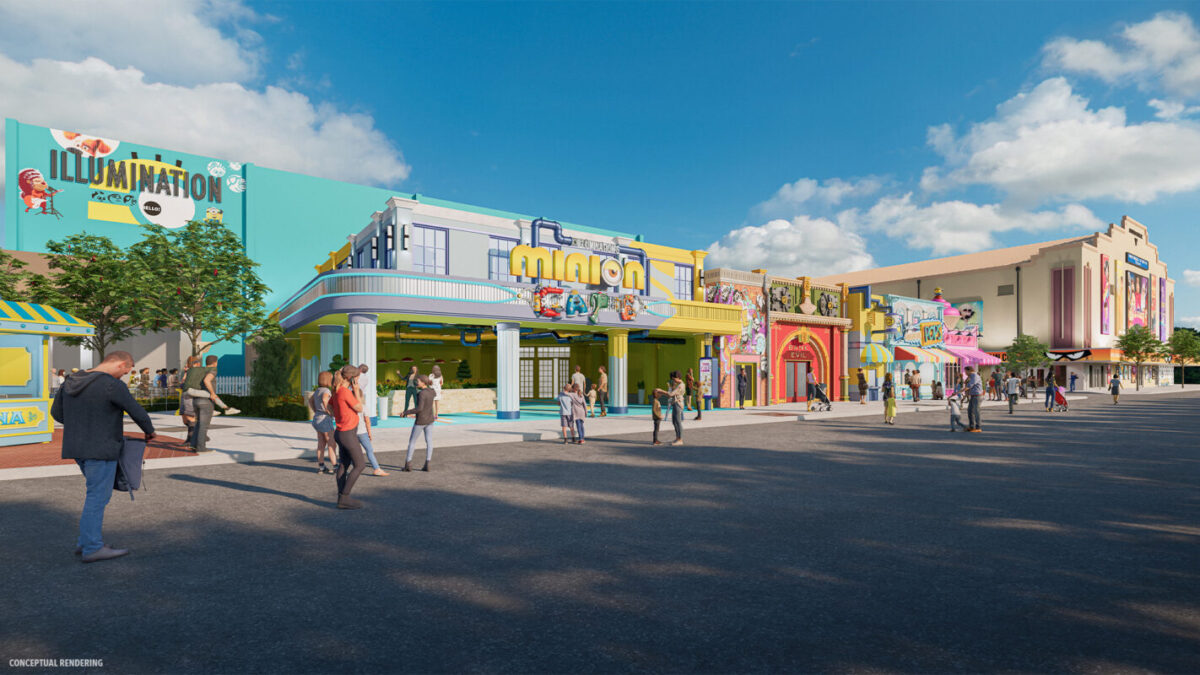 This summer, Illumination's Minion Land at Universal Orlando Resort will debut with a number of brand-new dining options and attractions for visitors.
The land will take over Production Central and rename it Illumination Avenue while also adding a new Minion Café (replacing the current Classic Monsters Cafe at Universal Studios) and "additional surprises inspired by well-known characters from Illumination's blockbuster franchises."
To complement the new land, the back of the Transformers: The Ride show building has been painted a teal blue color. The word "Illumination" will be added to the wall, as shown in the concept illustration up above.
The prime dining establishment is the Minion Café.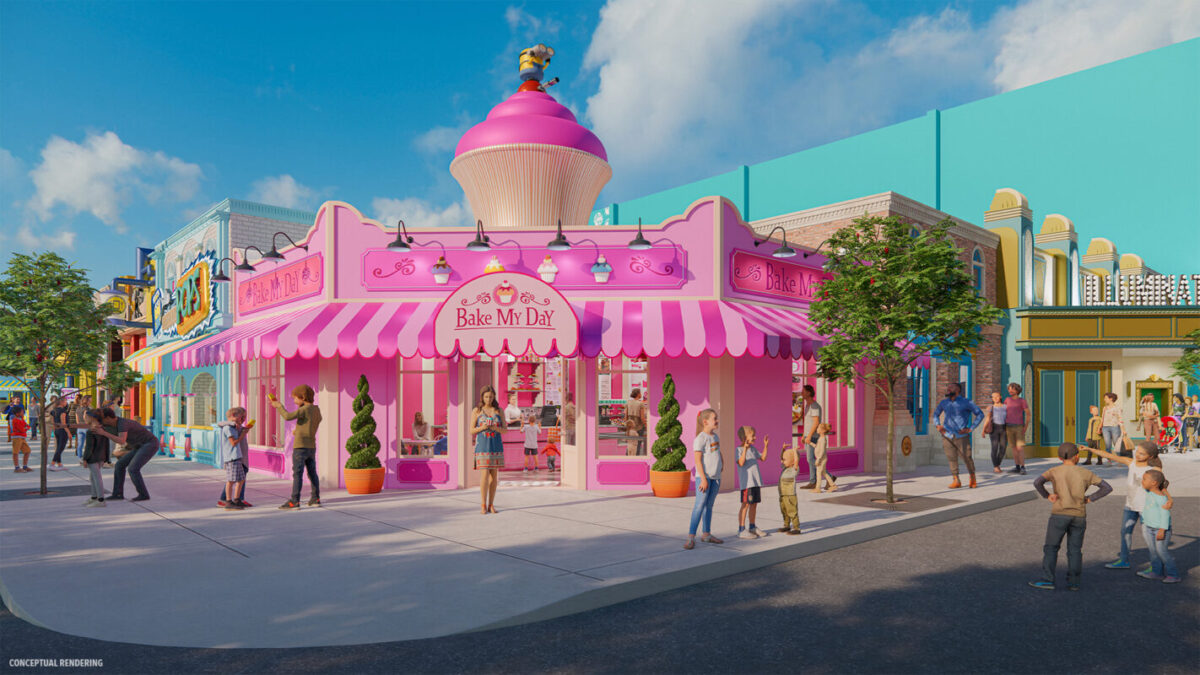 Food and beverage establishments will also include Pop-A-Nana, Freeze Ray Pops, and Bake My Day in addition to Minion Café. Visitors may purchase banana-flavored popcorn and popcorn buckets designed to look like the Minion at Pop-A-Nana.
Cupcakes, macarons, and s'mores will be available at Bake My Day, which boasts a huge pink cupcake perched on its roof. Additionally, there will be a variety of products here that draw inspiration from the Minions, including clothing, plush, drinkware, accessories, keychains, and more. The colorful popsicles from Freeze Ray Pops are based on Gru, the Minions, and Vector.
The existing Despicable Me Minion Mayhem and the brand-new Villain-Con Minion Blast will be the attractions. Despicable Me Minion Mayhem's exterior has recently undergone renovation.
Illumination's Villain-Con Minion Blast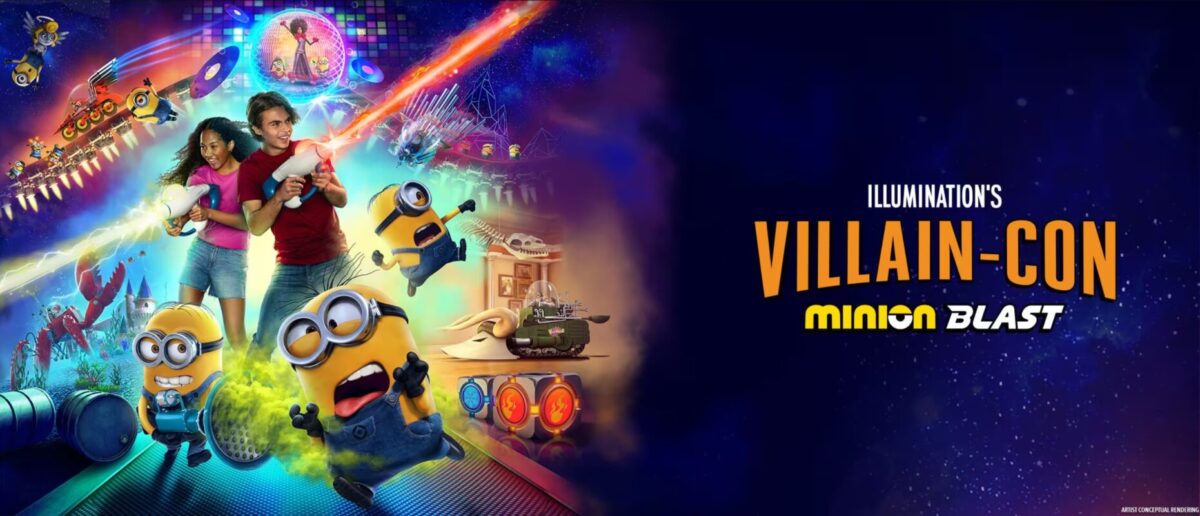 Guests on Illumination's Minions will travel with Belle Bottom, Jean Clawed, and the other Vicious 6 members at Villain-Con. To "blow their way to supervillain stardom," visitors are encouraged.
Villain-Con Minion Blast by Illumination is slated to be a shooting attraction with a moving walkway. The Illumination filmmakers and Universal's award-winning creative team collaborated to create the attraction. Visitors are invited to compete against one another in this interactive blaster game experience in an effort to join the franchise's most heinous supervillains.
In order to create a distinctive, game-based adventure, Villain-Con Minion Blast will make use of screen technology, gaming interactivity, and physical sets. In these immersive settings, visitors will test their talents as villains while spotting devious villains and mischievous Minions from Illumination's films. Visitors will be able to interact with these characters in a completely new way thanks to the attraction.
The attraction's premise is that visitors are sent to Villain-Con, the biggest criminal gathering on earth. Here, they are given the go-ahead to participate in a contest to determine their suitability as the newest recruits to The Vicious 6. After that, visitors will take an interactive blaster and enter a motion-sensitive route to begin blasting.
They will pass through a number of situations where they can score points by firing at various objects and causing as much damage as they can.
Recently, the Evil Things gift shop opened and the Villain-Con Minion Blast construction walls were torn down, you can watch the video above.