During Passholder Appreciation Days, which just started, people who have an annual pass to Universal Orlando Resort can get a new "Jurassic Park" print. From now until August 31, you can get the print at Five & Dime in Universal Studios Florida or the UOAP Lounge in Universal's Islands of Adventure.
Collectible UOAP 'Jurassic Park' Print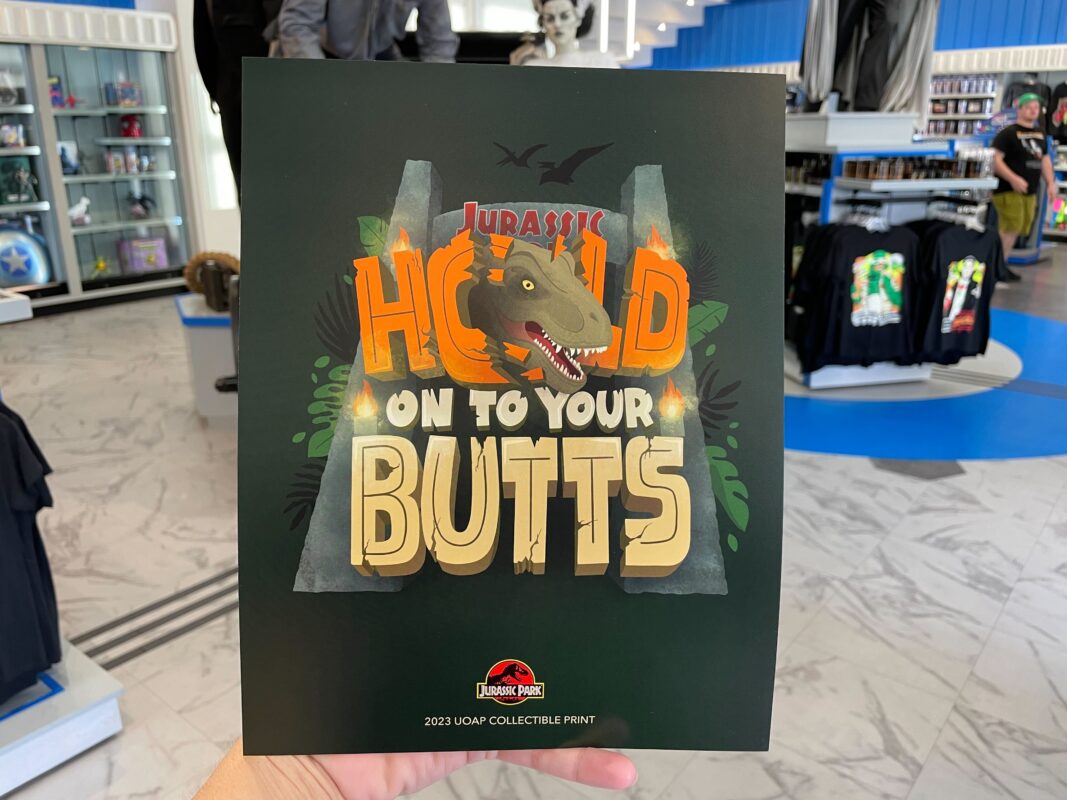 The print has a dark green background. A T. rex is pictured busting through the iconic Jurassic Park gates with the quote, "Hold on to your butts."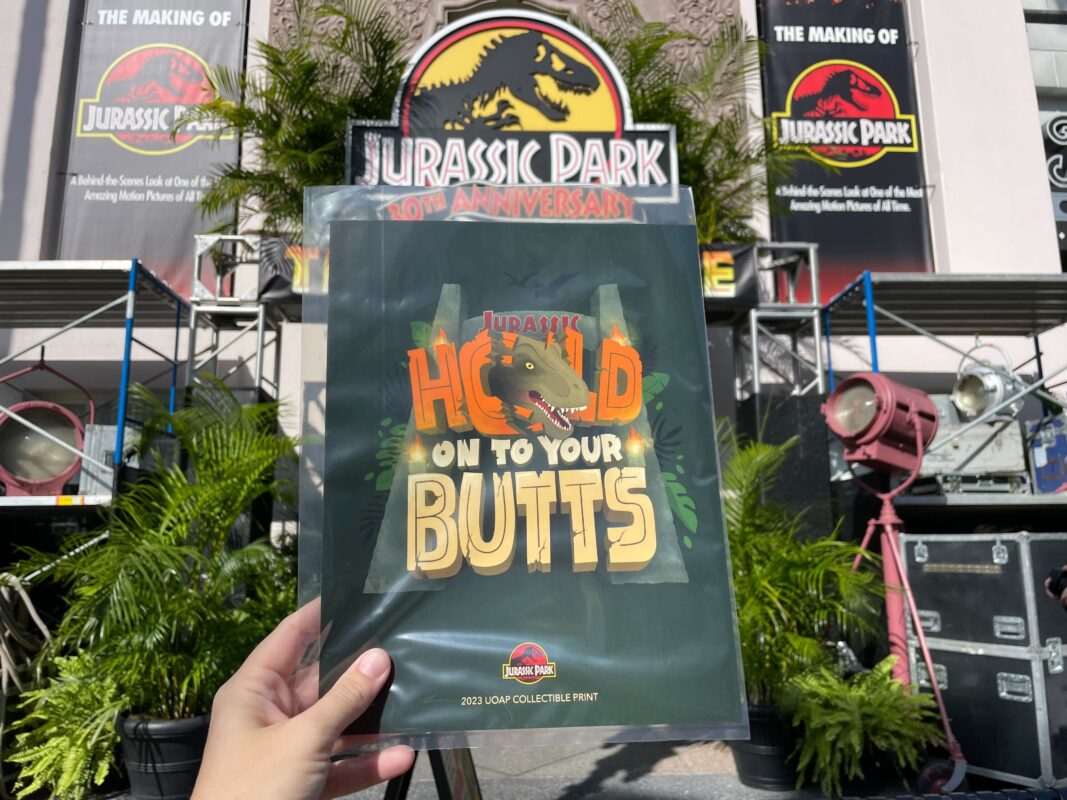 In the first "Jurassic Park" movie, Samuel L. Jackson's Ray Arnold says the line a few times.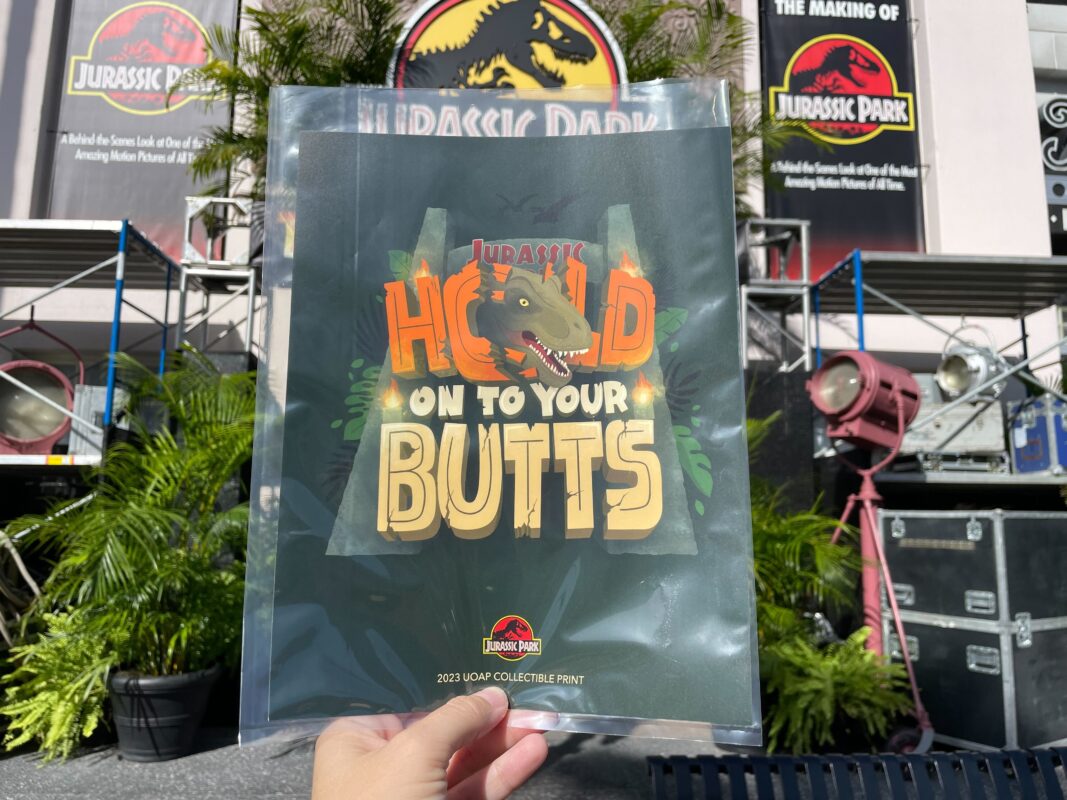 "Jurassic Park" turned 30 this year, and Universal Studios Florida celebrated with the Jurassic Park 30th Anniversary Tribute Store and exclusive merchandise.
This is fantastic news! It's hard to believe that "Jurassic Park" has been captivating audiences for three decades now. Universal Studios Florida's decision to celebrate this milestone with the Jurassic Park 30th Anniversary Tribute Store and exclusive merchandise is certainly a treat for fans.
The Tribute Store sounds like a must-visit destination for all Jurassic Park enthusiasts. Imagine stepping into a world filled with iconic props, breathtaking scenery, and immersive experiences that pay homage to this beloved film franchise.
With every step you take, you'll be transported back in time to the awe-inspiring world of dinosaurs.
And let's not forget about the exclusive merchandise! For those who can't resist showcasing their love for Jurassic Park, these limited-edition items are sure to be a hit. From collectible figurines and apparel to unique souvenirs, there will be something special available for fans of all ages.
This celebration not only allows us to relive cherished memories from the past but also highlights the enduring legacy of Jurassic Park. It serves as a reminder of how this groundbreaking film redefined what was possible in cinema and sparked our collective fascination with dinosaurs.
Whether you're planning an exciting visit or looking forward to getting your hands on some exclusive merchandise, Universal Studios Florida's dedication in commemorating this momentous occasion is truly commendable.
So put on your adventure hat and get ready for an unforgettable journey into the prehistoric era! Here's hoping that everyone gets a chance to experience the Jurassic Park 30th Anniversary Tribute Store and grab hold of some incredible memorabilia before they become extinct. Happy anniversary, Jurassic Park!