Universal Orlando Resort is making a name for itself in the theme park industry, challenging Walt Disney World Resort.
It is a sprawling complex with several theme parks, a water park, hotels, dining options, and shopping opportunities. Universal Destinations & Experiences, a division of NBCUniversal, owns and operates the Resort. Universal Orlando has two theme parks, Universal Studios Florida and Universal's Islands of Adventure, as well as the Volcano Bay Water Park.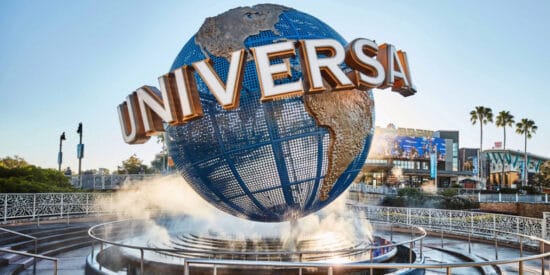 Transformers: The Ride 3-D, Revenge of the Mummy, MEN IN BLACK: Alien Attack, and Diagon Alley in the Wizarding World of Harry Potter are just a few of the attractions at Universal Studios Florida. The Amazing Adventures of Spider-Man, Jurassic World VelociCoaster, Jurassic Park River Adventure, and Hogsmeade Village in the Wizarding World of Harry Potter, where you can ride attractions like Harry Potter and the Forbidden Journey and Hagrid's Magical Creatures Motorbike Adventure, are all located next door at Universal's Islands of Adventure.
Aside from the theme parks, Universal Orlando Resort has a variety of onsite hotels, ranging from budget-friendly to luxury options. These hotels offer easy access to the parks as well as exclusive benefits like Early Park Admission and complimentary transportation. The Resort also has a thriving dining and entertainment district known as Universal CityWalk. This vibrant neighborhood is home to a diverse selection of restaurants, bars, nightclubs, shops, and entertainment venues. Visitors can sample a variety of cuisines, attend a live performance, watch a movie, play mini-golf, or shop for souvenirs.
Despite having a plethora of attractions and experiences already in place, Universal Orlando Resort is not stopping there. Indeed, many theme park insiders believe that Universal Studios Orlando is beginning to eat into Disney's market share because it is targeting families who previously felt they could only take their young families to Walt Disney World Resort.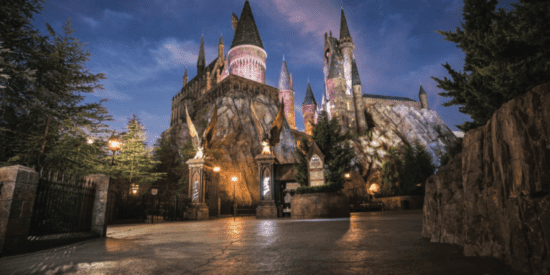 ALL-NEW Minion Land is now open at Universal Orlando
Of course, Universal Studios Florida's new Minion Land is now open. The land, which replaced Shrek 4-D and Universal's Classic Monsters Cafe, is home to a variety of attractions. The land will be anchored by two attractions: Despicable Me: Minion Mayhem (which has been open for several years) and the newly constructed Villain-Con Minion Blast, which is set to open soon and is currently undergoing Team Member testing.
Even though Minion Land is just getting started, here are a few things you can look forward to in the new land.
Villain-Con Minion Blast
Guests can put their villainous skills to the test in Illumination's Villain-Con Minion Blast, an all-new attraction in which Guests compete against each other in a fully interactive gaming experience that's so much fun it's criminal. Following that, guests will exit through Evil Stuff, a brand-new retail location where they can stock up on Villain-Con and Minions merchandise.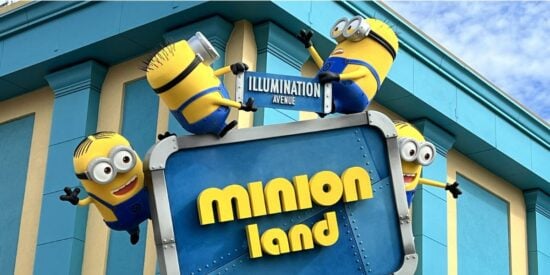 Minion Cafe
The new Illumination's Minion Cafe – the marquee dining location within Minion Land – features Minions in the kitchen, mischief in the dining room, and tons of tasty food. This immersive new eatery offers something for everyone in a highly entertaining dining experience that includes three themed areas inspired by beloved Minions Kevin, Stuart, Bob, and Otto: the Kitchen – where Guests can see the equipment and gear used by the Minions to create the cafe's menu; the Breakroom – where Guests can dine in the Minions' break space, which includes everything from "Office Safety Tips" to a vending machine stocked with mischievous items; and the Dining Room – a vibrant space adorned with colorful artwork created by the Minions and more. Guests can also dine on an outdoor patio overlooking the fun of Minion Land.
Illumination Theater
At an outdoor Illumination Theater facade, guests can meet, greet, and interact with beloved characters such as the Minions, Gru, Margo, Edith, and Agnes, as well as new additions from the hit film "Sing" – Rosita, Gunter, and Johnny.
Other attractions in the area include Bake My Day, Pop-A-Nana, and Freeze Ray Pops, all of which can be read about here.
However, it does not end there.
Rumored DreamWorks expansion coming to Universal Orlando
The Woody Woodpecker KidZone area is also located within Universal Studios Florida. The KidZone was permanently closed earlier this year to make room for "new and exciting" experiences.
While Universal Orlando Resort has not officially announced what will be built in the area, we can deduce from permits and patents, as well as signs on construction walls around the area, that it will be a DreamWorks Land.
Aerial photos of the demolition in this area show that the coaster, which was formerly known as Woody Woodpecker's Nuthouse Coaster, still stands. According to rumors, this coaster will be transformed into a Trolls-themed coaster.
As for the rest of the land, rumors suggest that Shrek's Swamp will be built next to the wall that will separate E.T. Adventure from the DreamWorks area. The DreamWorks Destination theater is expected to have some kind of show and meet and greets, as well as an interactive Kung Fu Panda meet and greet in the back of the new area. For the time being, we'll have to wait and see what Universal has planned for the area and how it all comes together.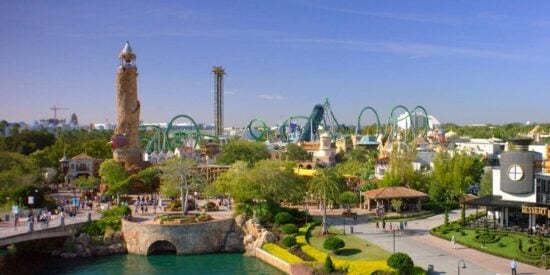 Poseidon's Fury replacement
Poseidon's Fury was a long-standing attraction at Universal's Islands of Adventure in the Lost Continent. The attraction is massive in size and featured a walk-through tour where guests went on a journey with their tour guide, Taylor, in search of the last professor.
Poseidon's Fury closed permanently just a few months ago, but nothing has been said about its replacement as of yet. Though Universal Orlando is in the early stages of replacing the attraction, little construction has been visible on the building's exterior.
Though there are no official confirmations, the most popular rumors are that it will include either a Jurassic Park expansion or the Wizarding World of Harry Potter. If Universal does not expand one of these lands, the most persistent rumor for years has been that a Legend of Zelda attraction could replace it.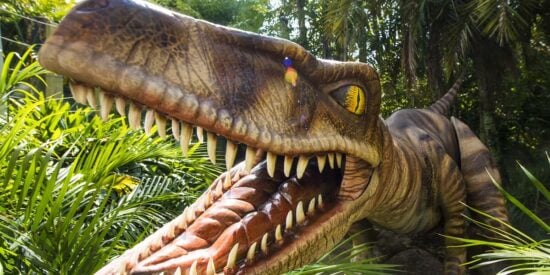 Of course, the big question here is whether The Lost Continent is on its way out. Aside from the world-famous restaurant Mythos, the land serves primarily as a buffer between Seuss Landing, Harry Potter's Wizarding World, and Jurassic Park.
All three of the attractions mentioned thus far – Minion Land, DreamWorks, and the replacement for Poseidon's Fury- are examples of Universal Destinations & Experiences working hard to attract families, even families with younger children, to its theme parks, and we can easily see how Universal Orlando is beginning to take market share from those who may have made a Disney trip instead just a few years ago.
Epic Universe at Universal Orlando
Finally, the largest and most anticipated construction project at Universal Orlando Resort is underway: Epic Universe. It will join Universal Studios Florida, Islands of Adventure, and Volcano Bay as the fourth theme park at the Universal Orlando Resort in Orlando, Florida.
Epic Universe was announced in August 2019 as Universal's "most immersive and innovative theme park" to date. It will include a number of themed lands, attractions, and entertainment experiences based on well-known intellectual properties. The theme park's goal is to provide visitors with a fully immersive experience by utilizing cutting-edge technology and storytelling techniques.
The new theme park is set to open in the summer of 2025, and when it does, it is expected to put Universal Orlando on a level playing field with Walt Disney World Resort, even with its heavy-hitter Magic Kingdom.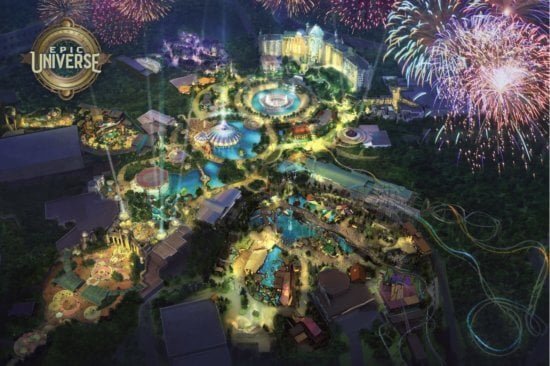 SUPER NINTENDO WORLD is the only officially announced land for Epic Universe. This world is expected to be a carbon copy, albeit slightly larger, of the one that recently opened at Universal Studios Hollywood.
Aside from SUPER NINTENDO WORLD, strong rumors for Epic Universe lands include How to Train Your Dragon, a space-themed Central Hub, an addition to the Wizarding World of Harry Potter that is expected to be themed to the Ministry of Magic, and Classic Universal Monsters.
We can essentially conclude from the patents that the Wizarding World of Harry Potter will have a dark attraction as its anchor attraction in the land. A dark attraction, as well as a roller coaster, will be added to the classic Universal Monsters Land. The Central Hub will have racing coasters and other small attractions, while How to Train Your Dragon Land will have a roller coaster and other themed rides for children.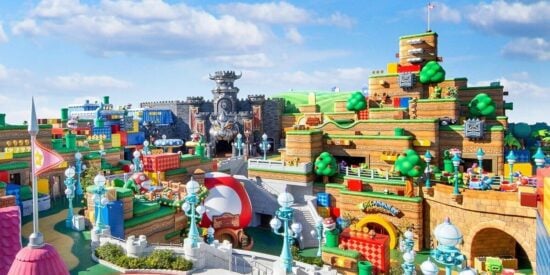 We'll have to wait and see what happens in Epic Universe, just like in the other three expansions. In addition to attractions, the new theme park is currently being surrounded by three hotels, one of which will be directly behind the park. Once these hotels are completed, Universal Orlando will have 11 total hotels, with plans for more in the future.
What do you think about the expansions happening at Universal Orlando Resort? Let Epic Universal Blog know in the comments!