At the opening ceremony for the same-named attraction at Universal Studios Hollywood on Wednesday night, Universal Parks & Resorts Chairman and Chief Executive Officer Mark Woodbury declared, "Soon, we're going to add another Super Nintendo World to Universal Orlando Resort." Then he acknowledged that the information might have been "history's worst-kept secret." The scene can be seen below.
The Super Mario Bros. movie, produced by Universal and Illumination, is scheduled for release on April 7, 2023; Super Nintendo World at Universal Studios Hollywood opens on Friday. Chris Pratt, who voices Mario, attended the grand opening celebration on Wednesday. A bigger Super Nintendo World with its own Mario Kart experience debuted last year at Universal's Japan theme park. Another one is slated to come in Singapore, and now it has been officially confirmed that Orlando will soon get a version of the attraction.
The newest theme in Orlando is currently under development will be part of the resort's larger, much-anticipated Epic Universe park, which is set to open in 2025.
Comcast CEO Brian Roberts announced Epic Universe in 2019, calling it "the single-largest investment Comcast NBCUniversal has made in its theme park business. The "concept" for Epic Universe was "historic," according to Tom Williams, then-president of Universal Parks & Resorts. He said the new park would be "the most immersive and innovative theme park we have ever created."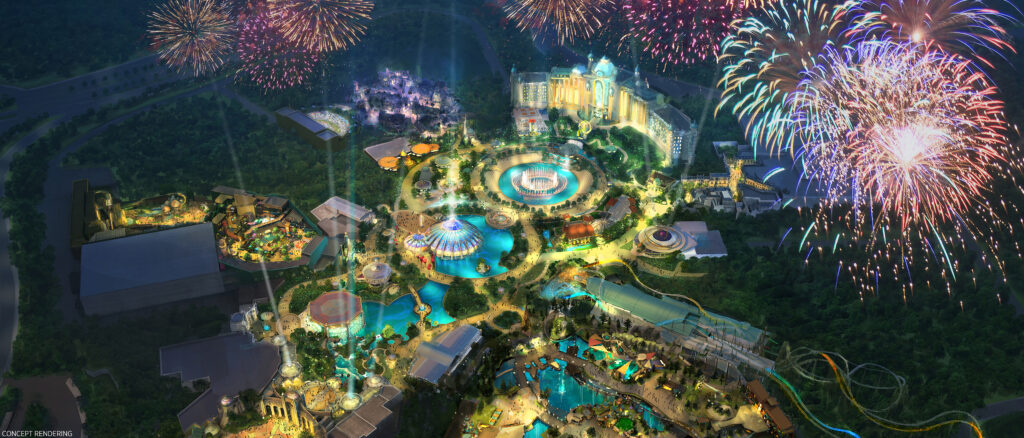 Given these descriptions, there has been a lot of expectation among fans. Some have been looking through the 750-acre site's construction permits, while others have sent up drones to examine the construction site so they may predict upcoming attractions based on images.
All of this is a part of Universal's rapid expansion, which includes both large, new attractions at its current sites and regional parks and attractions, like those just announced in Texas and Las Vegas.
To make room for "new family entertainment," Universal Orlando Resort announced the closure of at least five attractions late last year. On January 15, 2023, Fievel's Playland, Woody Woodpecker's Nuthouse Coaster, Curious George Goes to Town, DreamWorks Destination, and Shrek and Donkey's Meet & Greet would all permanently close.
Even though it's not tied to Mario, some reasonable possibilities regarding what may occupy the space include a potential Pokémon attraction or ideas based on DreamWorks or Illumination Property like Trolls or The Secret Life of Pets; Illumination's Minions already have their own area coming next year. Further information would be provided by Universal "in the months ahead."
In the video below, famed Mario franchise creator Shigeru Miyamoto and Universal Parks president Woodbury count down the start of the West Coast Super Nintendo World.
[H/T] Deadline